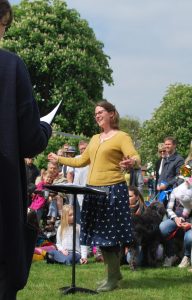 A wonderful first rehearsal back after Easter bodes extremely well for the Leigh Ladies Choir's second summer.
The choir is singing in the White Rose Room at the Chiddingstone Literary Festival at 1pm on 7 May, for more information on this wonderful festival, see http://www.chiddingstonecastle.org.uk/literary-festival-family-day/
Our summer concert is in Leigh's large village hall on Sunday 1 July at 4pm. Tickets on the door. The repertoire for this concert ranges from the ethereally beautiful, through feel good and inspiring to frankly unusual (but fantastic). The choir will premiere the piece 'Life has Loveliness to Sell'  written especially for the choir by Douglas Coombes MBE, a setting  of the gorgeous poem 'Barter' by Sara Teasdale. You will also have the privilege of hearing Leigh's gentlemen's choir the Baritones. We look forward to hearing what delights they have in store for us this time… The evening will be an uplifting and joyful occasion and we look forward to packing out the hall once again.